Fred Brown was one of the first of ten new initiates to the newly formed Lodge of Amity 4148 being proposed at the Consecration meeting on Friday 19th November 1920.
He was subsequently initiated into the Lodge at an emergency meeting on Wednesday 2nd February 1921.
At this time he was 32 years of age, married to Gladys and described as an Assistant Manager and Secretary, living at 18 Wensleydale Road, Thornbury, Bradford.
Throughout the 1920's he climbed the ladder taking every post within the lodge under the chair.
He was installed into the Worshipful Master's chair in November 1933, being the first candidate of the Lodge to occupy that chair.
In 1940 he was appointed Lodge Director of Ceremonies.
In September 1941, as part of the World War 2 'war effort' he was appointed a member of the Timber Control in London
In 1943 he was appointed Lodge Almoner.
In 1945 he was appointed to Provincial rank as PPAGDC
In 1952 he was elected as Lodge Treasurer, a post he was to hold for the next 11 years.
In 1963 he retired from holding office within the Lodge having risen to the rank of PPGW.
He died aged 80 on 2nd September 1969 having been a Freemason for 48 years.
A bequest by the late Worshipful Brother Fred Brown pays for the cost of a Bible presented to the new Worshipful Master each year and this is affectionately known as 'The Fred Brown Bible'.
Our History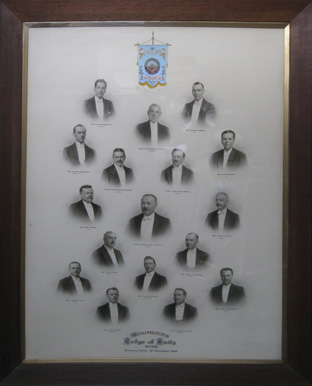 The Lodge of Amity has a very long history with its roots tracing back to Airedale Lodge No.387. Members of the latter founded the Lodge of Amity in 1920.
The history of the Lodge is currently being worked on and we hope to have it available on our website in the very near future.
In the meantime feel free to examine the founders' photo (click on the image to enlarge).
We would also be happy to receive and answer any enquiries relating to our history or past members of our lodge. Do not hesitate to contact the Lodge Secretary,  or email the Lodge at webmaster@lodgeofamity4148.co.uk  or by writing to:
The Lodge of Amity 4148,
The Masonic Hall,
Hoyle Court,
Otley Road,
Baildon,
Shipley BD17 6JS