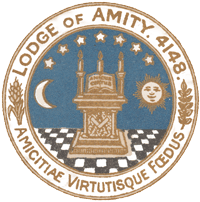 The Lodge of Amity No. 4148 was founded in 1920 and constituted in November of that year. The founder members were all members of the Airedale Lodge No.387.
We hold our regular meetings at Hoyle Court, Baildon, in the Province of Yorkshire, West Riding, on the 3rd Friday each month except August.
The Lodge of Amity is one of the original Lodges to occupy Hoyle Court which is a magnificent venue that enhances our social events.
The Lodge of Amity is located in Baildon, Yorkshire which is administered by the Provincial Grand Lodge of Yorkshire, West Riding, one of the 47 provinces of the United Grand Lodge of England (UGLE) which is the governing body of Freemasonry in England, Wales and the Channel Islands.
We hope that this web site will give you a little information about Freemasonry in general and our Lodge in particular.